Solo event,
Futurity and fertility in transgender people's lives
Date: 11.30am - 12.20pm | Sunday 15 July 2018
Venue: SAHMRI
---
The impact of medical treatment upon transgender people's fertility has received increased attention. At the heart of the topic of fertility preservation lies the question of futurity. This talk explores how transgender people negotiate decisions about fertility, focusing specifically on resistance to, and engagement with, pronatalist discourse.
---
Listen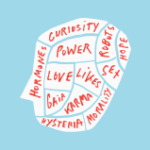 ---
Free event — Make sure you arrive a bit early to get the best seat! There's no registration required.

---
Presented by Flinders University