Solo event,
In our own image: artificial intelligence and the humans who shape it
Date: 10.30am - 11.20am | Saturday 14 July 2018
Venue: Bradley Forum
---
AI systems play an increasing role in our lives: deciding what jobs we do, our insurance options, our interactions with government services. What do we pass on to the AI we create? What biases and beliefs influence the way AI systems 'think'? How do we build ethical, responsible AI?
---
Listen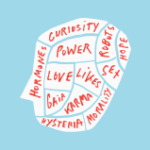 ---
Free event — Make sure you arrive a bit early to get the best seat! There's no registration required.

---