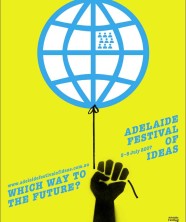 2007: Which Way to the Future?
Albert Einstein once remarked, 'I never think of the future. It comes soon enough.' Such a view now seems, relatively speaking, short-sighted. We can
no longer afford the do nothing option, to disregard, for example, the evidence of our disdain for our natural  environment.
This Festival is avowedly not about predicting the future. Crystal-ball gazers are not welcome, and should (as they must already know) stay away. Instead, the discussion is to be about imagined futures and how we might get there.
Most of us are in accord on the kind of future we want: freedom from oppression, ta live peaceably with our neighbours, a sustainable earth, decent work, a long life and a first-rate health care system to tend for us when our health falters. In the end, our common hope is that we can bequeath a better world far our children.
What we disagree about is how to build a better world. Grand schemes-a universal language,
a league of nations, an international protocol to reduce carbon emissions-have been tried and found wanting. But have we erred too far in the other direction, become too parochial?
Yes, resoundingly. That is the beauty of this Festival. Over the course of four nights and three days, some of the finest intellects in the world come to remind us of what lies beyond our city, and cajole and entreat us to change our world for the better. Listen, learn, talk, do.