A New Politics for a New Century
Venue: Elder Hall
---
"To win, Nordhaus and Shellenberger persuasively argue, environmentalists must stop congratulating themselves for their own willingness to confront inconvenient truths and must focus on building a politics of shared hope rather than relying on a politics of fear." – New York Times
Meet Ted Nordhaus and Michael Shellenberger, founders of the Breakthrough Institute in Oakland, California, a paradigm-shifting think tank and authors of Break Through. Ted and Michael are working to accelerate the transition to a future where all the world's inhabitants can enjoy secure free, prosperous, and fulfilling lives on an ecologically vibrant planet. But how will they do it? Is the era of small thinking really over?
---
Listen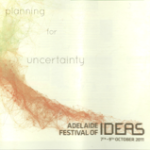 A New Politics for a New Century
---
This session is proudly supported by Department of Primary Industries and Resources of South Australia.