No boundaries, no borders, no barriers
Date: 1:00 pm | Sunday 9 October 2011
Venue: Jervois Room
---
What does a young, female Fulbright scholar do in Adelaide after completing ocean acoustic research in the US and ambient seismic research in New Zealand? Meet Laura Brooks, engineer and researcher, who is currently undertaking research in flow-induced noise, investigating the fundamental mechanisms by which this noise can be created. This understanding will help determine ways we can design quieter transport and energy technologies, leading to improved public health and quieter defence applications. Laura will talk to us about her previous and current work, her dreams and things still to be thought of.
---
Listen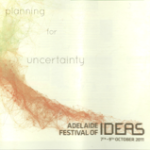 No boundaries, no borders, no barriers
---
This session is proudly supported by SAAB Technologies Australia.