Hypocrisy Rhymes with Democracy
Date: 1:00 pm | Saturday 8 October 2011
Venue: Bonython Hall
---
The Arab Spring has unleashed the hunger for freedom and democracy of Arab populations living under dictatorship. As Egypt, Tunisia and Yemen come to terms with their post-dictator future, and serious western intervention in Libya creates a stalemate, in Bahrain and Saudi Arabia profoundly un-democratic and repressive regimes endure with western connivance and brutal repression in Syria is met to date with tokenistic sanctions. If Saudi Arabia's oil makes our support for freedom and democracy melt away, does this mean this West can't afford to prefer Arab democrats to Arab dictators?
---
Listen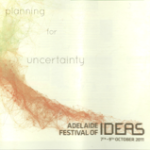 Hypocrisy Rhymes with Democracy
---
Mono Eltahawy appears with the support of the Sydney Opera House.