Inaction will cost us our future
Date: 1:00 pm | Saturday 8 October 2011
Venue: Adelaide Town Hall
---
In a recent survey 7 0ut of 10 members of Generation Y believe older Australians are shifting responsibility for action on climate change into the future. Ninety percent believe they will have to pay a high price to address climate change.
So often, young Australians have heard themselves labeled the 'Me Generation'. But the irony of that tag is now nowhere more obvious than through the self-interest on display from older generations of decision makers on climate change.
The real question from young Australians is: why not act? We take sensible precautions to protect life and property from the possibility of fire, so why would we not take sensible precautions on pollution and climate change?
---
Listen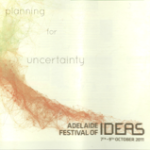 Inaction will cost us our future
---