How will climate change affect your food?
Date: 2:30 pm | Sunday 9 October 2011
Venue: Hetzel Theatre
---
Climate demonstrably affects almost every aspect of Australian food production systems. Consequently present and future climate changes will have broad impacts on these systems. Climate change impacts will interact with other stresses, potentially resulting in some food supply issues as well as reducing our capacity to contribute to the growing global food security challenge. How do we effectively adapt to such changes? We explore some prerequisites for effective adaptation of food systems and some options for adaptation ranging from incremental to transformational. Ongoing innovation will increasingly have a premium in such an environment, but will it be enough?
---
Listen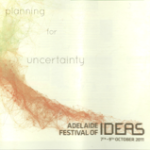 How will climate change affect your food?
---