Joy MacLenna Oration: Do We Care?
Date: 1:00 pm | Sunday 9 October 2011
Venue: Bonython Hall
---
Human beings react differently to the suffering of others. Some people can observe the suffering of others with cool detachment; some feel impelled to action. Some people respond with compassion; some are willing to exploit the occasion to their own advantage and remain indifferent to the fate of those less fortunate. Julian Burnside's presentation will explore, and try to understand, various responses of different sections of Australian society to the plight of those refugees who come to Australia by boat. From hostility to anguished compassion in the community; from indifference to gross hypocrisy among politicians, Australia's response to boat people in the past decade has been truly bewildering.
---
Listen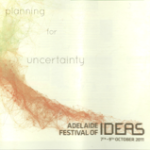 Joy MacLenna Oration: Do We Care?
---
Anglicare SA sponsors the Joy MacLennan Oration in memory of one of SA's pioneers in social welfare services.