Sick, screwed up or just lazy?
Date: 11:30 am | Sunday 9 October 2011
Venue: Jervois Room
---
Looking at the diagnosis of mental health in youth, we are continually invited to think of ourselves as sick. It seems to be working. Apparently even amongst young people, a population previously thought to be healthy, hundreds of thousands are clamoring for mental health services that they just can't access. Jon Jureidini doesn't buy that, but he does agree that many young people are unhappy, distressed and functioning below their potential. He will talk about why he thinks it is kinder and healthier to think of them as screwing up / being screwed up rather than as being sick.
---
Listen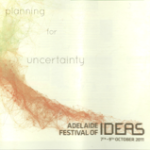 ---