Special event: resource rich or dirt cheap
Date: 7:00 pm | Saturday 8 October 2011
Venue: Adelaide Town Hall
---
Australia is in the midst of a mining boom, but from the Gold Rush onwards history tells us that booms inevitably go bust. What happens if the Chinese lose their appetite for our minerals? Will there be anything left of industries like manufacturing and tourism, already struggling to survive under the boom-high dollar? The resources rush is generating enormous wealth but the benefits are not evenly spread. Are we capturing a fair share of that revenue and investing it wisely in nation building? What are we putting aside for future generations? After all, minerals can only be dug up once.
---
Listen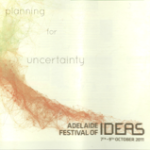 Special event: resource rich or dirt cheap
---
This session is proudly supported by PepinNini Minerals Ltd.