The government engagement strategy
Date: 2:30 pm | Sunday 9 October 2011
Venue: Adelaide Town Hall
---
In 2008 the Format Collective began a Government Engagement Strategy to try to figure out how to better engage the government in community decision making. Local and interstate experts on government engagement and collaborative policy design, including those who have been working productively with the government sector for decades, will talk about how we can better include government in community decisionmaking processes, strategies and visions for the future; how to get the government engaged, what role government can play in your initiatives and projects and how we can break down the sense of 'Us' and 'Them' in the decision making process.
---
Listen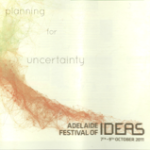 The government engagement strategy
---
This session is a joint presentation of the Adelaide Festival of Ideas and the Festival of Unpopular Culture.